Beautiful football or not, winning is what matters for Brazil


Brazil Sportblog Beautiful football or not, winning is what matters for Brazil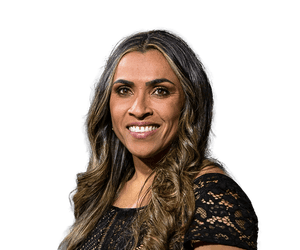 Marta
In the second of her World Cup columns for the Guardian, Marta examines Brazil's improved performance against Costa Rica and whether Neymar's penalty was correctly overturned
Brazil are up and running with their first win of this World Cup and the most impressive part of the victory over Costa Rica was that they never stopped believing they would get a winner.
Towards the end Costa Rica were under more and more pressure. Their players went to ground easier and stayed down for longer as they tried to waste time. This is not prohibited in football and is part of the game but Brazil just kept going.
Brazil's Tite insists Neymar will reach his 'best level' at the World Cup Read more
They were the ones who had showed more willingness to go forward, to attack, from the outset and were rewarded. It was a deserved victory and there were signs that Brazil were starting to play the way we want them to, moving the ball quickly, using the wide areas to create space and speed in their counterattacks.
The matches will get harder the further we get into the tournament (assuming Brazil qualify for the knockout phase) but we are now more likely to face teams who attack more and do not just defend and that will make it easier for our attacking players to create chances.
This was a vastly improved performance compared with the one against Switzerland. Neymar was much higher up the pitch, in the danger areas, and that's where he is at his most threatening. He created a lot of problems for Costa Rica â€" with one of them becoming another controversial VAR decision.
Was it a penalty when Neymar fell to the ground? The referee first blew his whistle but then, after watching the video replay, changed his mind and overturned the penalty. Was he right to do so? Well, the Costa Rica defender stopped the continuity of Neymar's movem ent with a touch but it was not enough to be called a penalty. Neymar did not try to stay up and fight against the defender and therefore the touch was not enough to be considered a penalty. Once again it showed that despite VAR it is not always easy to come to a decision.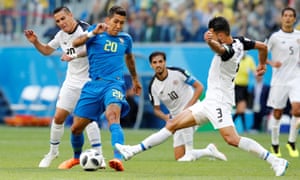 This Brazil team have so much individual quality and on Friday we started to see that â€" but we can see even more of that. Playing as a team is important but from the midfield and forwards we need more of the qu ality of those players who can create chances individually. We also need more players in the box. If we do that, when we get near the goal, we can create even more opportunities. Against Costa Rica we showed that it can happen.
It is not always that easy to play against a team that set up very defensively. I remember playing against Sweden in the 2016 Rio Olympics and they had 10 players defending and trying to hit us on the counterattack.
We were doing everything we could, putting as much pressure on them as possible, but in the end we could not break them down. The game went to extra time and penalties â€" and we lost. It is important to have patience and Brazil had that against Costa Rica.
Philippe Coutinho, the quiet master in Brazil's World Cup high drama | Barney Ronay Read more
Some people have said Brazil have not been entertaining but that is a typical opinion of a fan. We fans, and I have to brand myself as that now I am watching from the outside, always expect Brazil to play well and to play beautiful, technical football because those are Brazil's trademarks.
Then, when that does not happen, people do not like it and criticise them. However, in the history of our national team we have memories of generations with great teams playing the game wonderfully but were not able to win the World Cup. The result is what matters. Brazil can play beautiful football or not but winning the World Cup is what will matter for the fans and the players â€" nothing else.
It was hugely encouraging to see the changes that Tite made with Douglas Costa coming on for Willian and then Roberto Firmino for Paulinho. They were very important in turning the game.
I am not surprised about Firmino doing so well. He has had an outstanding season in England with Liverpool, always working hard and showing that he is ready to help the team in whatever way he can. He is always looking to contribute an d against Costa Rica it was no different with him setting up the first goal.
Should he start the next game, against Serbia? He could be in the starting XI but it would not have to necessarily be instead of Gabriel Jesus. They showed against Costa Rica that they can play well together.
The players on the bench also showed that they can contribute towards the team shining. First, Fagner replaced Danilo at rightâ€'back and then Douglas Costa and Firmino changed the game.
That kind of squad power cannot be overestimated. It is important that we have players of such a high standard that can come on and help to make things happen going forward.
Finally, Neymar had a much better game. He is looking to overcome all the challenges thrown at him and that is what I and every other Brazilian is hoping for, that he gets back to his best level. Then w e will have an even greater chance of winning the World Cup.
Topics
World Cup 2018
World Cup
comment
Share on Facebook
Share on Twitter
Share via Email
Share on LinkedIn
Share on Pinterest
Share on Google+
Share on WhatsApp
Share on Messenger
Source:
Google News South Brazil
|
Netizen 24 Brazil