World Cup 2018 power rankings: Brazil and Croatia lead the way

World Cup 2018 power rankings: Brazil and Croatia lead the way
World Cup 2018 World Cup 2018 power rankings: Brazil and Croatia lead the way
At the end of the group stage we rank the 32 teams at the World Cup in Russia, with Brazil top, England in 10th and Panama last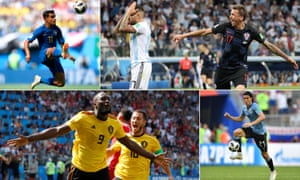 1) Brazil
It is hard to shake the feeling that Brazil are the best-balanced side at this World Cup. Neymar has pranced and preened, particularly in the first two games, and they were slow to get going but there was an ominous feel to their win over Serbia and they look capable of raising things further. Philippe Coutinho has been a considerably bigger influence than their Ligue 1-based star turn so far; if Mexico are disposed of then a mouthwatering quarter-final with Belgium is likely.

2) Croatia
Given that manner in which they sailed through the most difficult group, Croatia are arguably the team of the tournament so far. They have rarely been spectacular but look composed, organised and unflustered, wit h their biggest stars stepping up in the thumping win over Argentina. A meeting with Spain in the last eight looks likely and Zlatko Dalic's side cannot be ruled out of doing something special.
'I love football because it's the opposite of science: contradictory, primitive, emotional' Read more
3) Belgium
Whether or not they really wanted to, Belgium's second string glided past England and of the pre-tournament favourites they have arguably had the best time of things in the group stage. Romelu Lukaku and Eden Hazard got their eyes in during the cakewalks against Panama and Tunisia; Japan should be obliging opponents in the round of 16 and this generation of players may never have a better chance to prove half a decade of hype correct.
4) Uruguay
So far, so straightforward for Uruguay, who would have expected little else from a weak Group A. They have not exactly sparkled although there were suggestions against Russia that the y are gathering a head of steam and it will have done Edinson Cavani no harm to join Luis Suárez on the scoresheet. Now Oscar Tábarez needs to get more out of a midfield that is yet to gel satisfactorily.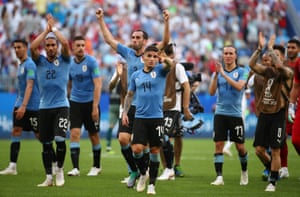 5) Colombia
The second-half evisceration of Poland was one of the tournament's most exciting displays so far and there is no doubt that, at full throttle, Colombia can take anybody apart. Senegal showed that they can run into trouble when denied space, though, and there are doubts about their defence's capability to cope with speed. Much may depend on James Rodríguez's injury, which left José Pékerman visibly concerned on Thursday.
6) Mexico
That whirlwind of a showing against Germany now looks a little harder to judge in the light of subsequent events. Mexico are capable of playing sublime football at a lightning tempo and boast an enviable array of technicians; Sweden found it all too easy to batter them into submission though and Brazil are very unlikely to give them carte blanche to operate as they would prefer.
Can the World Cup help elect controversial Mexico legend Cuauhtémoc Blanco? Read more
7) Spain
They are just about keeping it together but Spain are yet to find a blend that looks capable of going all the way. How much influence Fernando Hierro can actually wield on a team he inherited at the last moment is questionable; attacking balance has largely been lacking, save for a scintillating half-hour spell against Portugal, while t hey have been rattled by lesser opponents with surprising ease. There is always the suspicion they will come good but Spain look rudderless.
8) France
It can sometimes feel hard to forgive France's lack of fluency given the thrilling riches at their disposal and that was a feeling heightened after the Anschluss-esque tie with Denmark. But they came through a relatively testing group unbeaten and, if nothing else, Kylian Mbappé has made an excellent start to his first World Cup. Can Didier Deschamps finally cajole something extra against another disjointed giant in the form of Argentina?
9) Sweden
By now everybody should know better than to underestimate Sweden, who were on nobody's radar at the outset but outlasted everyone to top Group F. Their 3-0 win over Mexico was, even allowing for a no-show from their opponents, one of the best tactical displays of the tournament so far; they used their power and aggression to superb effect but have a dash of quality too and will feel quietly confident now.
10) England
Is it coming home? From a Russian vantage point a couple of wins against meagre opponents seem to have sparked inordinate optimism back home although we have to be fair: this is a pleasant, likeable England team with a manager who is more tuned in to the various demands of wearing the shirt than any in memory. They will, it seems, have to do things the hard way now but perhaps it does no harm for Gareth Southgate's side to be genuine unknown-quantity material.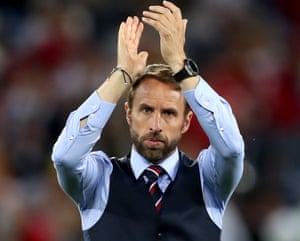 11) Switzerland
Those "Eagle" celebrations contrived by Granit Xhaka and Xherdan Shaqiri may have dominated the headlines but this is the slickest, most impressive Switzerland side in recent memory and the draw has opened up nicely for them. They will need to regain some of the momentum they lost in cruising to a draw with Costa Rica, but the intensity they mustered against Serbia and in drawing with Brazil suggested they could come through from nowhere.
12) Argentina
This is probably the worst Argentina team of the past two decades and that is more the pity given that, if they had the talent in midfield and defence to match their attacking riches, their possibilities would be limitless. They are mightily fortunate to have got this far but they do have Lionel Messi and, as he confirmed with that luscious finish against Nigeria, that is enough to keep people watching and believing.