Brazil dam disaster: BHP Billiton faces lawsuit in Australia

Australia Australia Brazil dam disaster: BHP Billiton faces lawsuit in Australia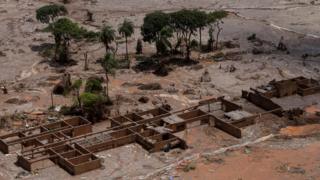 Mining giant BHP B illiton says it will defend itself against a class action lawsuit in Australia over Brazil's 2015 dam disaster.
The collapse of a dam at a Samarco mine killed 19 people and led to Brazil's largest environmental disaster.
The Samarco mine is jointly owned by BHP Billiton and Brazil's Vale.
More than 3,000 investors have signed up to the lawsuit, lodged in the Federal Court of Australia in May.
The claim alleges that BHP Billiton failed to disclose the risk of the dam's failure to the stock market, and misled investors over the company's safety guarantees.
The action from Australian law firm Phi Finney McDonald will seek to recover shareholder losses.
The claim estimates more than A$25bn (£14bn; $18bn) was wiped off BHP's market value in the month following the November 2015 tragedy.
The Anglo-Australian miner's stock prices fell by 22% on the Australian Securities Exchange, and by 23% on the London Stock Exchange and Johannesburg Stock Exchange.
"Given the share price fall and the high volumes of shares traded, we believe it a very significant claim," principal lawyer Brett Spiegel told the BBC.
Miners agree timeframe for Samarco claim
Samarco dam failure 'due to poor design'
Seven charged over Samarco dam disaster
BHP Billiton is also facing a US shareholder class action over the disaster, as well as ongoing criminal and civil cases in Brazil.
Last month, the company reached a deal with Brazilian authorities to push back a $47.5bn civil lawsuit for two years while both sides negotiate a settlement.
The collapse of the dam, which had carried contained waste from the nearby iron ore mine, caused a deadly mudslide which flattened several small communities and polluted a river.
Top Stories
Deadly shooting on Toronto avenue
A gunman opened fire on a busy street, leaving one person dead and 13 injured, police say.
23 July 2018
Trump and Rouhani trade angry threats
23 July 2018
Macron shakes up staff over beating row
23 July 2018
Features
Mystery black sarcophagus opened in Egypt
Video
Would this 17-year-old get your vote?
'Why we had to fake my murder'
Video
'Get out now or die'
The 13-year-old who built a best-selling lemonade brand
How a killer disease was stopped in its tracks
Video
Why millions listen to this girl's advice
'Magic owls', ghost voters and Zimbabwe's election
Parents of premature babies face a further trauma - PTSD
E lsewhere on the BBC
Football phrases
15 sayings from around the world
Full article Football phrases Why you can trust BBC News
BBC News Services
On your mobile
On your connected tv
Get news alerts
Contact BBC News
Source:
Google News South Brazil
|
Netizen 24 Brazil